---
Join our waiting list to be notified when tickets become available.

Done! You are on the waiting list.
---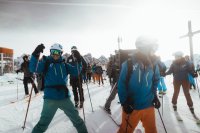 *** WHEN SOLD OUT, PLEASE GO TO THE WAITING LIST ***

+++ Payment with Credit/Debit Card, giropay (online bank transaction in GER), Stripe +++
We are so happy to announce this year`s #Skigaudi2023
It is finally time to come together, celebrate REAL life to the fullest and get to know NEW and FAMILIAR faces from university!
Skigaudi 2023 Pass includes:

🏨 4 days accommodation in our Skigaudi Hotels

🍝 Breakfast & dinner (buffet)

🍾 Innovative party concepts - Disco, Skigaudi Wonderland, Skigaudi own Club, Apreski Stage, Relaxing Rooms, Sauna and fireplace DJs

🚌 4-⭐ Bus transfer from and to Munich - CO2 compensated (Busses from Nuremberg & Passau possible for 14.-17.12. for a small fee)

🏆 Participation in legendary SkigaudiLYMPICS (competition with awesome prizes, e.g. ski race, beerpong,..)

🗻 Workshops with our partners & Mountaintop YOGA at 2340m (reserve a spot in our app soon)

☕ Free Glowine at "Glowwine & Bunfire Night"

🎿 Special deals for rentals in the Hotels

⛷ Skiing lessons on demand with special deals - BEGINNERS WELCOME

📱Brandnew Skigaudi App to connect with participants and latest event updates

✨ aaaand much more fun

☝ Student-friendly price:

Bus (from / to Munich)| Additional Busses from Nuremberg / Passau c, Hotel (Skigaudi Village / Hotel Olympia) and Gaudi from 251€

excl. Skiing pass (special price through the SKIGAUDI COMMUNITY - €132 for 4 days).


We can`t wait to celebrate life at the Good Vibe Mountain with all of you again. 
SKI YOU @ SKIGAUDI 2023 
Peace, Love & Good Vibes 
Your Skigaudi-Crew  
PS: We recommend you to close a travel cancellation insurance and an insurance to cover the repatriation costs in case of accident or illness.

* The travel security certificate will be sent via Email after the ticket purchase if you request it